Is the War in Syria Intensifying? U.S. Carrier Strike Group Deployment Extended as U.S. Troops Suffer "Brain Injuries"
by Brian Shilhavy
Editor, Health Impact News
America's resolve to hang on to oil fields in Syria that former President Donald Trump seized in 2019 seems to be intensifying as the U.S. military has extended the deployment of the George HW Bush Carrier Strike Group, which has been under NATO command since last year, and is currently in the Mediterranean Sea.
The United States has decided to extend the deployment of the George H.W. Bush carrier strike group to provide options to policymakers after last week's deadly attacks in Syria by Iran-backed forces, U.S. military officials said on Friday.

The decision likely means the Bush strike group and its more than 5,000 U.S. forces, which are now in the European Command operational area, will not be returning to home port in the United States on schedule.

U.S. Central Command (CENTCOM) spokesperson Colonel Joe Buccino confirmed the carrier group's extension, which was first reported by Reuters.

"The extension of the George HW Bush Carrier Strike Group, inclusive of the USS Leyte Gulf, the USS Delbert D. Black, and the USNS Arctic, allows options to potentially bolster the capabilities of CENTCOM to respond to a range of contingencies in the Middle East," Buccino said in a statement.

Buccino also noted a scheduled, expedited deployment of a squadron of A-10 attack aircraft to the region. (Source.)

The George HW Bush Carrier Strike Group includes flagship USS George H.W. Bush (CVN-77), USS Leyte Gulf (CG-55), USS Delbert D. Black (DDG-119), USS Truxtun (DDG-103), USS Farragut (DDG-96) and USS Nitze (DDG-94). Carrier Air Wing (CVW) 7 is embarked on Bush. (Source.)
The George HW Bush Carrier Strike Group replaced the Harry S. Truman Carrier Strike Group in the Mediterranean Sea last year. (Source.)
We reported on the original deployment of Harry S. Truman Carrier Strike Group to the Mediterranean Sea under NATO command last year, because it marked the first time that U.S. Navy forces based in Norfolk, Virginia were being commanded by a non-American as part of NATO.
This followed the annexation of the U.S. Naval base by NATO in 2021, even though the base is on U.S. soil.
Excerpts:
Has a non-U.S. citizen, a military general from France, now taken over command of the U.S. Navy under NATO?
French General Philippe Lavigne was appointed to the post of Supreme Allied Commander Transformation by the North Atlantic Council on May 28, 2021. (Source.)
The North Atlantic Council is the political organization that controls NATO:
The North Atlantic Council is the principal political decision-making body within NATO. It oversees the political and military process relating to security issues affecting the whole Alliance. It brings together representatives of each member country to discuss policy or operational questions requiring collective decisions, providing a forum for wide-ranging consultation between members on all issues affecting their peace and security. (Source.)
Who are the main leaders influencing and controlling The North Atlantic Council? Primarily, George Soros is the main donor to The North Atlantic Council.
Joe Schaeffer, writing for The World Tribune on October 25, 2019, reported:
What can you say about an organization that brings together George Soros, the Clintons, leading defense contractors, a powerful lobbying firm that employs ex-House speaker John Boehner and notoriously biased media outlets such as CNN and Reuters, all under the same umbrella?

The Atlantic Council's commitment to globalism is at the core of its mission statement. "Through the papers we write, the ideas we generate, and the communities we build, the Council shapes policy choices and strategies to create a more secure and prosperous world," the group says of itself.

Preserving the North Atlantic Treaty Organization (NATO) and fostering a Cold War-era hostility to Russia are among its chief priorities. So it is no surprise that the Council is thoroughly engaged in Ukraine.

The Council is funded by and partners with Burisma, the Ukrainian energy company that paid Joe Biden's son Hunter $83,000 a month to serve as a consultant, despite the younger Biden having no experience whatsoever in the energy industry.

The think tank has publicly declared its great debt to progressive globalist billionaire George Soros. "Soros' political and strategic philanthropy is an inspirational example of how one man's vision and unflagging commitment to the open society ideal can change the lives of millions," the Council gushed in a 2015 article on its website simply titled "Thank You, George!"

"Soros has become one of the world's most ardent advocates of the new Ukraine," the article states.

Soros's Open Society Foundations is listed as one of the top donors to the Atlantic Council, coming in under the $250,000-$499,000 category in the Council's "Honor Roll of Contributors" for the 2018 fiscal year. (Full Article.)
Less than two months after the appointment of French General Philippe Lavigne to the post of Supreme Allied Commander Transformation by the North Atlantic Council, NATO annexed the largest naval base on U.S. soil, in Norfolk, Virginia, on July 15, 2021, bringing it completely under the control of NATO, even though the base is on U.S. soil.
There was almost no media coverage of this event, but we covered this story in September last year with a story published at GlobalResearch.ca:
U.S. Troops in Syria Suffered "Brain Injuries"
It is also now being reported that some American troops in Syria are suffering from "traumatic brain injuries" after recent attacks in Syria.
Six U.S. service members so far have been diagnosed with traumatic brain injuries from attacks by Iran-backed militants in Syria earlier this month that killed an American contractor, the Pentagon said Thursday.

The diagnoses were made as part of ongoing medical assessments of American personnel at the two locations in northeast Syria targeted by an Iran-made drone and militant rockets, and more TBI cases are possible, said Brig. Gen Pat Ryder, the Pentagon spokesman. (Source.)
This is not the first time U.S. troops based in the Middle East have suffered from these types of "traumatic brain injuries."
In 2020, American troops stationed in Al Asad Air Base in Iraq came under attack when Iran launched 15 ballistic missiles on the base in retaliation for a U.S. drone strike that killed Maj. Gen. Qassem Soleimani, the commander of Iran's Quds Force military branch.
Troops there also suffered "traumatic brain injuries," but then President Donald Trump and others refused to acknowledge the injuries for over two years.
Eventually, weeks later, it was revealed that at least 100 soldiers suffered traumatic brain injuries from the attack. For Futrell and others, the brain injuries would weigh on them daily and change their lives forever.

But the long road to National Guard troops receiving the Purple Heart awards they were entitled to would take another two years, following military shortcomings in tracking injuries and resistance from senior leadership.

"Nobody has treated these injuries with the seriousness they deserve," said Futrell, who is now medically retired.

The Iran attack was downplayed from the start. The assault was retaliation for a U.S. drone strike that killed Maj. Gen. Qassem Soleimani, the commander of Iran's Quds Force military branch. Then-President Donald Trump initially reported in the weeks following the attack that no one was injured in the Iranian strike on Al Asad.

"I heard they had headaches and a couple of other things," Trump told reporters. "But I would say, and I can report, it is not very serious. Not very serious."

But Futrell, and at least eight other National Guardsmen from Ohio and New Hampshire, did suffer what turned out to be serious injuries.

Futrell was medically retired from the Ohio National Guard in May after a constant struggle with headaches, mental fatigue and other health issues as a result of the missile barrage. He was awarded a 90% disability rating from the Department of Veterans Affairs. (Full article.)
Is the United States Losing Control of Middle Eastern Oil?
This latest round of conflicts in Syria follows major announcements in the rapidly changing geopolitical makeup of the Middle East, where Saudi Arabia has put aside decades of conflict with Iran and has also agreed to start selling oil to China in China's currency, rather than U.S. dollars.
Turkey is another major player in the Middle Eastern oil conflicts, and they just announced this week that they were closing down their pipeline pumping oil out of Iraq due to ongoing conflicts with the Kurds in northern Iraq.
This action by Turkey has allegedly taken 450,000 barrels per day of crude exports out of the market.
Turkey Halts 450Kb/d In Oil Output Via Kirkuk-Ceyhan Pipeline Amid Dispute With Iraq

Iraq was forced to halt around 450,000 barrels per day of crude exports, or half a percent of global oil supply, from the Kurdistan region (KRI) on Saturday through a pipeline that runs from its northern Kirkuk oil fields to the Turkish port of Ceyhan, Reuters reported.

Turkey stopped pumping Iraqi crude from the pipeline after Iraq won an arbitration case in which it said Turkey had violated a joint agreement by allowing the Kurdistan Regional Government (KRG) to export oil to Ceyhanwithout Baghdad's consent.

Iraq's government said it's up to Kurdistan to break the oil deadlock. "The ball now is the Kurds' court," Asim Jihad, a spokesman for Iraq's Federal Ministry of Oil, said in an interview.

Meanwhile, oil firms operating in the KRI are being forced to halt output or move production into storage, which many say will reach capacity within days, as talks drag between Turkey, Baghdad and the KRG to resume exports.

Norwegian oil firm DNO said on Wednesday it had begun shutting down production at its Tawke and Peshkabir fields, where production averaged 107,000 barrels per day (bpd) last year. This represents a quarter of total Kurdish region exports, DNO said. (Full article.)
Turkey's opposition to Kurdish separatists has extended to Syria over the past decade where Turkey still has troops on the ground, but relations between Turkey and Syria are taking a new turn now these days, as the two nations began discussing ways to reconcile late last year. (Source.)
This coming week, deputy foreign ministers from Syria, Turkey, and Iran will meet in Moscow as the Middle Eastern political landscape is rapidly changing.
The deputy foreign ministers of Syria, Turkey, Iran and Russia will meet in April in Moscow, Turkish and Iranian officials said on Tuesday, building on contacts between Ankara and Damascus after years of hostilities during the Syrian war.

Encouraged by President Bashar al-Assad's ally Russia, Syrian and Turkish officials held meetings last year, in a move towards normalising ties between states on opposing sides of Syria's 12-year-long conflict.

But Assad this month ruled out any meeting with Turkish President Tayyip Erdogan until Turkey is ready to withdraw its military from northern Syria, deemed occupying forces by the Syrian president.

The situation on the ground in Syria would be discussed at the April 3-4 in Moscow, a senior Turkish official said.

"This meeting is expected to be a continuation of the ministerial-level meetings that began during the normalization process," the official said. (Full article.)
Turkey is unique with their membership in NATO, being the only Muslim country in NATO. They are also the only NATO country that has also applied for membership in BRICS, led by China and Russia, where it is expected that their membership will be accepted, along with Saudi Arabia and Egypt.
The president of the BRICS International Forum expects Turkey, Egypt and Saudi Arabia to join the group "very soon". In an interview with Russia's Izvestia, Purnima Anand said that China, Russia and India discussed this issue during the 14th BRICS Summit, which was held online last month.

"All these countries have shown an interest in joining and are preparing to apply for membership. I think this is a good step, because expansion is always perceived positively; this will clearly increase the influence of BRICS in the world," explained Anand. "I hope that the accession of countries to BRICS will happen very quickly, because now all representatives of the core of the association are interested in expanding the organisation, so it will be very soon."

Earlier, Li Kexin, Director-General of the Department of International Economic Affairs of the Chinese Foreign Ministry, said that several countries were "knocking on the doors" of the organisation, including Indonesia, Turkey, Saudi Arabia, Egypt and Argentina.

The BRICS forum is a political organisation that began negotiations for its formation in 2006 and held its first summit in 2009. Its members were the countries with emerging economies, namely Brazil, Russia, India, and China, operating under the name BRIC, before South Africa joined the organisation in 2010, making it BRICS.

The organisation's countries are characterised as being among the industrialised developing countries with large and emerging economies. Half of the world's population lives in these five countries, and their combined gross domestic product is equivalent to that of the US ($13.6 trillion). Their total foreign exchange reserves are $4 trillion. (Source.)
The American Empire is Crumbling, as is their Control of Middle Eastern Oil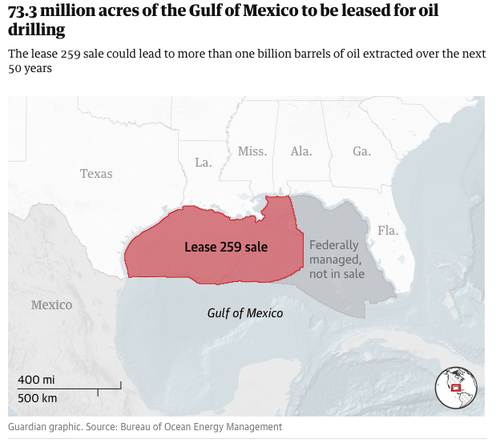 The American Empire is crumbling, as is their control of Middle Eastern oil.
The Biden Administration shows signs of panicking, as they are rapidly abandoning their stated goals of phasing out "fossil fuels" by expanding the drilling of new oil fields in the U.S.
Biden recently reversed his own position and risked the scorn of his own party by agreeing to approve ConocoPhillips' $7 billion oil and gas drilling Willow project in Alaska's National Petroleum Reserve. (Source.)
Then this past week, it was announced that 73.3 million acres of the Gulf of Mexico will be leased for oil drilling.
As required by the Inflation Reduction Act (IRA) of 2022, the Bureau of Ocean Energy Management (BOEM) auctioned oil and gas drilling rights across 73.4 million acres in the Gulf of Mexico despite the Biden administration's pledge to end new leasing as part of climate change initiatives.

According to BOEM, 32 companies participated in the Gulf of Mexico Lease Sale 259, submitting $309,798,397 in total bids. Reuters pointed out that Chevron Corp, ExxonMobil Corp, and BP Plc were among the top bidders.

The Guardian said the size of Lease 259 is comparable in size to Italy. (Source.)
The whole climate change agenda is a joke. America is not going to end their dependency on oil anytime soon, and they are rapidly losing control of the world's energy market.
It's time to bring our troops home, and concentrate on rebuilding our own economy, rather than trying to police the rest of the world.
Editor's Note: I lived in Turkey for several years in the 1980s, where I learned Turkish and taught English, and then also worked out of Southeastern Turkey in 1991 during the first Gulf War as a translator helping repatriate Kurds back to northern Iraq after the war.
I also lived in Saudi Arabia for several years in the 1990s teaching English at King Fahd University of Petroleum and Minerals. So I probably understand more about the history and politics of this region than about 99% of the American journalists reporting on these events today.
Related:
See Also:
Understand the Times We are Currently Living Through