'Focused on others': Barr says Durham unlikely to charge Obama or Biden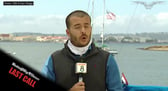 00:2102:17
"I have a general idea of how Mr. Durham's investigation is going. … There's a difference between an abuse of power and a federal crime. Not every abuse of power, no matter how outrageous, is necessarily a federal crime," Barr said during a press conference on Monday. "Now, as to President Obama and Vice President Biden, whatever their level of involvement, based on the information I have today, I don't expect Mr. Durham's work will lead to a criminal investigation of either man. Our concern over potential criminality is focused on others."
At a time when President Trump and his allies are fanning the flames of an alleged "Obamagate" conspiracy, Barr emphasized that the Connecticut federal prosecutor's inquiry into the origins of the Russia investigation would follow the facts. Durham was selected by Barr last year to lead an investigation into the origins of the Trump-Russia investigation and into the actions taken by law enforcement and intelligence officials before and after Trump's election.
Trump has chastised Obama over what he has dubbed "ObamaGate" — actions Trump and his allies say Obama and his top national security officials took to undermine his campaign and presidency.
Biden's apparent role has also been highlighted by the Trump campaign and others. The 2020 presumptive Democratic nominee was present at a high-profile early January Oval Office meeting related to the Intelligence Community Assessment on Russian meddling and stayed behind for a smaller meeting in which the FBI's intercepts of retired Lt. Gen. Michael Flynn's conversations with Russian Ambassador Sergey Kislyak were discussed. Biden is also listed as an authorized recipient of unmasking intelligence on Flynn.
"The Durham investigation is trying to get to the bottom of what happened, and it will determine whether there were any federal laws broken, and, if there were, those who broke the laws will be held to account," Barr said. "But this cannot be and it will not be a tit-for-tat exercise. We are not going to lower our standards to achieve a particular result."
The attorney general said he sought to ensure that the 2020 election would not be dominated by investigations into one or both of the major candidates like what happened in 2016.
"We live in a very divided country right now, and I think it is critical that we have an election where the American people are allowed to make a decision, a choice, between President Trump and Vice President Biden based on a robust debate of policy issues, and we cannot allow this process to be hijacked by efforts to drum up criminal investigations of either candidate," Barr said. "And I'm committed that this election will be conducted without this kind of interference. Any effort to pursue an investigation of either candidate has to be approved by me."
Durham is reportedly looking into whether former CIA Director John Brennan took politicized actions to pressure the rest of the intelligence community to match his conclusions about Russian President Vladimir Putin's motivations.
The 2017 assessment concluded with "high confidence" that Putin "ordered an influence campaign in 2016," as well as that Russia "developed a clear preference" for Trump and worked to "undermine public faith" in U.S. democracy, "denigrate" former Secretary of State Hillary Clinton, and "harm her electability and potential presidency." The National Security Agency diverged on one aspect, expressing only "moderate confidence" that Putin actively tried to help Trump win.
Durham is also scrutinizing Brennan in relation to British ex-spy Christopher Steele's dossier, looking for answers about why former FBI Director James Comey and former FBI Deputy Director Andrew McCabe insisted on it being part of the assessment, how allegations from the dossier ended up in the assessment's appendix, and whether Brennan misled others about the dossier's use.
Barr decried at length the actions taken by the Obama administration and, it appeared, by former special counsel Robert Mueller.
"Now, what happened to the president in the 2016 election and throughout the first two years of his administration was abhorrent," Barr said. "It was a grave injustice, and it was unprecedented in American history. The law enforcement and intelligence apparatus were involved in advancing a false and utterly baseless Russian collusion narrative against the president."
Mueller's 448-page report, released in April 2019, said the Russians interfered in the 2016 election in a "sweeping and systematic fashion," but it "did not establish" any criminal conspiracy between Trump's campaign and Russia. No one was ever charged with Russia collusion.
Justice Department Inspector General Michael Horowitz criticized the DOJ and the FBI for at least 17 "significant errors and omissions" related to Foreign Intelligence Surveillance Act warrants against former Trump campaign adviser Carter Page and for the bureau's reliance on Steele's flawed dossier. Recently declassified footnotes show the FBI knew Steele's dossier might have been compromised by Russian disinformation.
Durham is also known to be reviewing the unmasking saga, as well as the flurry of classified media leaks in the closing days of the Obama administration and the early days of the Trump administration, with a specific focus on the potentially criminal leak of details about Flynn's conversation with the Russian ambassador to media outlets in early 2017.
"Criminal charges are appropriate only when we have enough evidence to prove each element of a crime beyond a reasonable doubt. That is the standard we are applying," Barr stressed. "Now, I have a general idea of how Mr. Durham's investigation is going, and, as I have indicated, some aspects of the matter are being examined as potential crimes."