Here's the medical outlook for Trump following his coronavirus-positive test
00:1001:21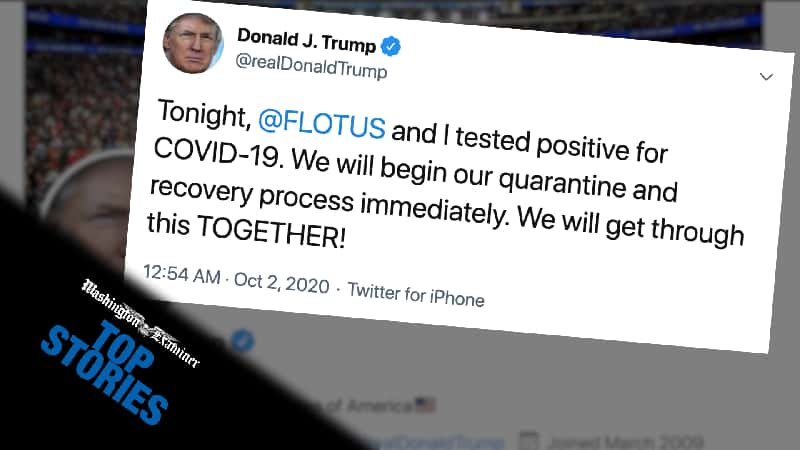 President Trump, 74, is at a higher risk of becoming seriously ill from the coronavirus, which causes the highest rates of hospitalizations and deaths among adults over 65.
Trump's age and weight put him at greater risk of becoming severely ill due to COVID-19. The risk of people in their 70s infected with the coronavirus of having to be hospitalized is 34.1%, according to data from the Centers for Disease Control and Prevention ranging from late January to May 30. Since then, however, treatments for the coronavirus have improved. For instance, some patients have been successfully treated with remdesivir in conjunction with steroids.
At 244 pounds, Trump is considered obese for his height, which increases the chances that he will require hospitalization.
Eight out of 10 coronavirus-related deaths reported in the United States have been among adults aged 65 years and older.
Symptoms usually appear about five days after becoming infected. Trump has shown some mild symptoms, White House chief of staff Mark Meadows said. He appeared "lethargic" during a Thursday fundraiser at his Bedminster, New Jersey, golf club, according to someone close to the president.
In most patients, the disease starts as a mild infection with shortness of breath and other upper respiratory tract symptoms, per the CDC. In some patients, the infection will worsen and enter the lungs and cause pneumonia by the end of the first week or the beginning of the second week after infection.
[Timeline: Who traveled with President Trump, Melania, and Hope Hicks before COVID-19 diagnoses]
While details about the first family's diagnosis are scarce, White House adviser Dr. Scott Atlas, a conservative radiologist who joined the coronavirus task force in August, said that he expects Trump and the first lady to make a swift recovery. Fox News host Sandra Smith read an update Friday from Atlas on the president's positive diagnosis in which he suggested that there was "zero reason to panic."
Physicians the Washington Examiner spoke with differed somewhat in their recommended treatment regimens.
If Trump did not have symptoms, Dr. Alieta Eck, a primary-care physician in New Jersey, said she would treat him for five days with hydroxychloroquine, zinc, and Vitamin C and D.
"He should also take it easy for a few days," she said. "He probably could use the break."
But Dr. Mohamed Hagahmed, an emergency physician and faculty member at the University of Texas at San Antonio, would not prescribe any drugs at this phase in the disease.
"If he is asymptomatic, the main thing is observation," he said. "I would make sure he follows isolation precautions and minimizes contact with staff."
Now that Trump has shown symptoms, Hagahmed said he would treat him based on the particular symptoms.
"If his symptoms were mild, like a cough, runny nose or fatigue, but he can function, then I'd just continue observation," Hagahmed said.
If Trump experienced shortness of breath, that could mean a low oxygen level in his blood, Hagahmed said. That would entail providing Trump with an oxygen supply. Hagahmed would also order a chest x-ray to look for other complications such as pneumonia.
Trump's prospects look good. Eck said that chances are small it would prove fatal even if he did develop symptoms.
"At his age, statistically, it's still very low. If he became ill with it, maybe 5%-10%," said Eck.
"Fortunately for Trump, he doesn't have that many comorbidities," added Hagahmed. "With comorbidities you have more potential for developing complications."
Former Food and Drug Administration Commissioner Dr. Scott Gottlieb, meanwhile, told CNBC Friday morning that now would be a good time for Trump's physician to consider treating the president with remdesivir, the most promising COVID-19 medication for those who have just been infected
"We talked earlier about remdesivir, that would be the most obvious," Gottlieb said. "That's being used pretty widely in symptomatic patients, people who are more sick than the president appears to be now. But I don't think it would be unreasonable to introduce that earlier."
British Prime Minister Boris Johnson, 56, was the first and most famous world leader to be diagnosed with COVID-19, which sent him to the ICU and was nearly fatal. Johnson, like Trump, is older and overweight, making him more vulnerable to serious illness. Johnson returned to his office on Downing Street in April.
######