The Technocrats Exposed: Almost 70,000 Layoffs in Big Tech so far in 2023 as Techno-Prophecies Fail
by Brian Shilhavy
Editor, Health Impact News
The massive bleeding of jobs in the technology sector is rapidly increasing here in the first month of 2023.
According to Layoffs.fyi, while 1040 Tech Companies laid off 159,684 employees in 2022, here in the first month of 2023, 229 Tech Companies have already laid off 68,502 employees.
And we haven't even finished the first month of the year yet!
As I have previously written, the Big Tech Crash of 2022 which is now extending into 2023 at an even greater pace, really started accelerating when large Corporate Wall Street firms started pulling their funding for fully autonomous driverless vehicles last year when it became obvious that the technocrats had oversold the idea that one day fully autonomous driverless vehicles would dominate transportation.
This false techno-prophecy has come crashing down to reality in a big way, as investors with a lot of money but without a lot of knowledge of just what the technology can or cannot do, begin to realize that much of the hype over technology, especially "artificial intelligence" (AI), is mostly science fiction and not real. See:
For example, one of the technology companies that has now laid off most of its staff here in 2023, but had a $307 million valuation in a June 2021, is the shopping app "Nate."
Nate, the shopping app that drew attention last year for overstating its use of artificial intelligence technology to power its transactions, has stopped processing payments on its app and has cut most of its workforce, according to three people directly familiar with the matter.

The moves suggest Nate is poised to become the latest casualty among e-commerce startups. The New York-based startup, which was backed by Coatue Management and Forerunner Ventures, offered people the ability to make shopping lists on its app. Nate charged shoppers a fee for filling out payment information on retailers' web sites to make purchases of products easier, a process it said was done with AI.

But as The Information previously reported, Nate actually relied on workers overseas to manually enter the data for many of the transactions. Nate did not disclose use of these workers to some of its potential investors when pitching the app.

Nate was part of a group of startups that took advantage of the massive boom in e-commerce set off by the pandemic shutdowns to attract hundreds of millions of dollars in venture funding from investors.

But many of them failed to take market share from larger incumbents like PayPal, Shopify and Stripe, and the slowdown in online shopping last year exposed weaknesses in their business models. (Source – Subscription required.)
Nate apparently lied about its "AI" capabilities to try and give them a competitive market edge over its competitors. They claimed their app and the transactions were all powered by AI, like "magic."
As The Information reported last year (emphasis mine):
While the company said it was using artificial intelligence to populate customer information during the checkout process, it had actually hired workers in the Philippines to manually enter the data on retailers' sites for a significant portion of the transactions Nate facilitated in 2021, according to two people with direct knowledge of the company's practices.

That meant customers' orders were sometimes placed hours after they clicked the buy button through the Nate app. Nate didn't disclose its decidedly low-tech methods to at least some of the investors from whom the startup tried to raise money, according to a person with direct knowledge of fundraising discussions.

Based in New York and founded in 2018 by fashion entrepreneur and former Amazon employee Albert Saniger, Nate describes itself as an "artificial intelligence startup" with an app that allows iPhone shoppers to make a purchase from any retailer's website with a couple of taps, "like magic." When shoppers see something they want on a mobile retail website, they can click the browser's share button to open the Nate app, and then just click buy in the app.

"Let machines do the heavy lifting" of completing the order, Nate's website says.

But to process transactions automatically on retailer sites without the aid of humans, Nate's software needed to figure out how to locate specific buttons on the page, such as the one that adds an item to the shopping cart, without getting blocked by trackers on the site that look for automated bots, said two people with direct knowledge of the technology.

That proved difficult.

As a result, throughout 2021, the share of transactions Nate handled manually rather than automatically ranged between 60% and 100%, according to two people who had direct access to internal data from Looker, a data visualization tool, which tracked Nate's transactions.

Employees at Emapta, an Australian-owned offshore staffing company, handled most of the manual work in the Philippines, these people said. (Source.)
Here is an ad for job openings that was placed in the Philippines to recruit people to work behind the scenes in a call center providing the "AI" to power the Nate app (emphasis mine):
Job Description

EMAPTA is looking for a Purchasing Assistant to be part of our partner, Nate Tech!

Overview

Nate Tech is a digital assistant able to buy any item on any website without human intervention. Its neural networks use deep learning and natural language processing to read web code and transact online on behalf of people. They are a venture-backed artificial intelligence startup with officers in New York and London, founded in 2018 by Albert Saniger. They use cognitive automation to make people's lives better: Humans decide. Machines execute.

As the Purchasing Assistant, you shall be responsible for:

Executing an online purchase (that has failed in the system), through a notification received through Slack
Execute the purchase within 10 minutes of receiving the notification
Copy the order number (confirmation order number) and paste it in Slack
Mark the order as complete (through Slack)

You should have:

A Bachelor's Degree or, have completed 2 years in college or a 2-year degree technical /vocational course
Experience in handling a large volume of repetitive tasks
Proficient in typing, ten key, computer skills, accuracy and speed
The ability to change priorities quickly when asked by supervisor and to meet daily goals
A strong effective communication skills, both orally and in writing
The ability to work well with a team but can also work independently
A desire to learn, as in the very near future the role will evolve and require you to undertake more complicated, but exciting tasks
You can't make this stuff up! This should be the script of a science fiction movie, and not something that investors actually invested hundreds of millions of dollars in.
After advertising the Nate app as "a digital assistant able to buy any item on any website without human intervention. Its neural networks use deep learning and natural language processing to read web code and transact online on behalf of people." – they then go on to list all the requirements needed to process these orders manually by a call center in the Philippines, which allegedly accounts for 60% to 100% of the transactions!
As I have written before, watch out for techno-prophecy buzz words which are all B.S., and mean nothing outside of science fiction movies and TV programs, and one of those is "neural networks."
They don't exist.
Yes, I realize that if you search for this on the Internet you will find many websites talking about it as if it is reality, and of course you have billionaires like Elon Musk spending a ton of money on it, but that doesn't mean it is true, or that it exists.
It just means that fools with too much money to spend are wasting their time and money on this, and it is all crashing down to reality now as the economy collapses.
Have you wondered why during all of this COVID scamdemic since 2020 that I have never addressed the issue of "gain of function" and creating deadly pathogens in a lab?
It's because it is all fake. The technology cannot create living things. It can poison and degrade living things, but it cannot create them or evolve them into higher forms.
But the belief that the technology can do this is very strong, and we observed it in the Alternative Media last week with the Project Veritas undercover interview of the Pfizer manager, where he clearly explained that the whole concept of mutating viruses was only a thought, and had never been done, and that they had no idea if it would work or not.
Almost everyone in the Alternative Media then ran with the story claiming that Pfizer was performing "gain of function" research, even though this person at Pfizer clearly stated that they were not.
Belief almost always trumps facts, when the belief is widely held by many people.
But the facts clearly show that the way to kill off many people or make many people sick, is not through some "virus" or other pathogen created in a lab, but by injecting the population with toxic "vaccines" and convincing people that these "vaccines" are designed to protect you, and that you are getting sick because of some deadly new "virus."
So all of this alleged conflict you see in the corporate media between people like Senator Rand Paul and Dr. Anthony Fauci over "creating deadly pathogens" in a lab is all a dog and pony show to distract you from the real issues, which are the deadly bioweapons called "vaccines."
Big Tech Billionaires and Trillionaires Need Cheap Labor from Poor Countries for Their Technology to Work
One of the dirty little secrets of Big Tech and their science fiction is that behind all the glitz of their technology and false claims is a mammoth workforce sourced overseas with cheap labor from countries like India and the Philippines that is necessary to keep all this technology running.
In October of 2021 I published an article about the millions of "ghost workers" employed by Big Tech overseas to keep their technology running.
Excerpt:
Standing on a street corner in Chicago, a young woman named Emily uses the Uber app to request a ride. A phone mounted on a nearby driver's dashboard pings. The driver, whose name is Sam, accepts Emily's request and begins navigating toward her location. Meanwhile, a third person who is located more than eight thousand miles away becomes secretly involved in their exchange.

Ayesha, a woman in Hyderabad, South India, is tasked with validating Sam's identity. She has to confirm that the selfie Sam has submitted to Uber as part of the company's Real-Time ID Check process matches his photo on file.

Sam had shaved off the beard that appears in his file photo, and the mismatch automatically prompts human intervention. A timer for the task counts down on Ayesha's computer interface as she compares the photos. Just before Sam's car pulls up to where Emily is waiting, Ayesha validates Sam's photo, authorizing his account. Emily gets in the car.

According to anthropologist Mary L. Gray and computer scientist Siddharth Suri, the authors of Ghost Work: How to Stop Silicon Valley From Building a New Global Underclass, this sort of invisible real-time interaction occurs about once in the course of 100 of Uber's pickups in the US, or approximately 13,000 times a day. (An Uber spokesperson noted that the authors' sequence above is inaccurate; a driver would not have been allowed to accept any trips before their ID had been verified.)

"Ghost workers" like Ayesha, whether carrying out this particular task or something entirely different, are laborers in an almost completely hidden economy that supports the operations of some of the world's largest corporations and services, where human input is required to fulfill tasks for "rewards" of as little as one cent.

They moderate comments and review flagged photos and videos on social media, caption clips, transcribe doctor's notes, train search engines to produce more relevant results, tag images to teach algorithms to recognize their contents, and do much else besides.

The demand for such tasks is relentless. "New companies crop up every day with business models that depend on workers around the world who respond to open calls routed through software to do this behind-the-scenes work," Gray and Suri write.

An economic class of ghost workers began to cohere in the early 2000s, after Amazon created a platform called Amazon Mechanical Turk (aka MTurk) through which workers could perform much-needed on-demand services for the company, such as correcting titles and descriptions in its enormous database of books, embedding listings with keywords, and selecting the right cover images.

Just as Amazon's consumer offerings expanded beyond book sales to nearly every shippable good, MTurk also grew enormously. Today, Amazon and many outside companies use the platform to enlist a huge pool of laborers to complete necessary tasks at all hours. Google and Microsoft — whose research arm employs Gray and Suri — have also developed their own versions of MTurk, adding to the number of interfaces where ghost workers complete on-demand tasks.

Ghost workers can also be contracted by third-party vendors. The lack of visibility makes it hard to quantify the number of people who are engaged in this kind of labor; a Pew Research Center report estimates that in 2015 there were about 20 million people doing hidden on-demand work in the US alone. (Full article.)
There is another word in the English language that is a synonym for the word "artificial," and it is "fake."
If you want to start acknowledging that you are not going to fall for the technocrats false techno-prophecies, stop referring to "AI" as "artificial intelligence" and start referring to it as "FI", "fake intelligence," because that is a much truer expression to use based on reality.
Computers and computer software are not "intelligent," but "dumb." They can only do what they are programmed to do, and therefore will never replace humans with "superior intelligence."
The free ride the technocrats have been enjoying for the past 2 decades since the dot-com bust is coming to an end, as the money dries up and investors stop investing in FI which cannot accomplish what the techno-prophecies claimed it could do, but is only seen on TV in science fiction movies and programs.
And what is going to happen to all the cheap labor overseas when the U.S. dollar loses its value as the world's #1 currency, which now is only a matter of time?
That labor overseas will not be "cheap" forever, and eventually all these employees in the U.S. who are being laid off by Big Tech are going to have to replace these cheap foreign workers, and then only the technology that actually accomplishes something, will survive.
But even then, there will always be human laborers needed to keep it all running, and that is assuming there is power to run it, since modern day technology cannot survive without electricity.
Humans vs. Machines? No Contest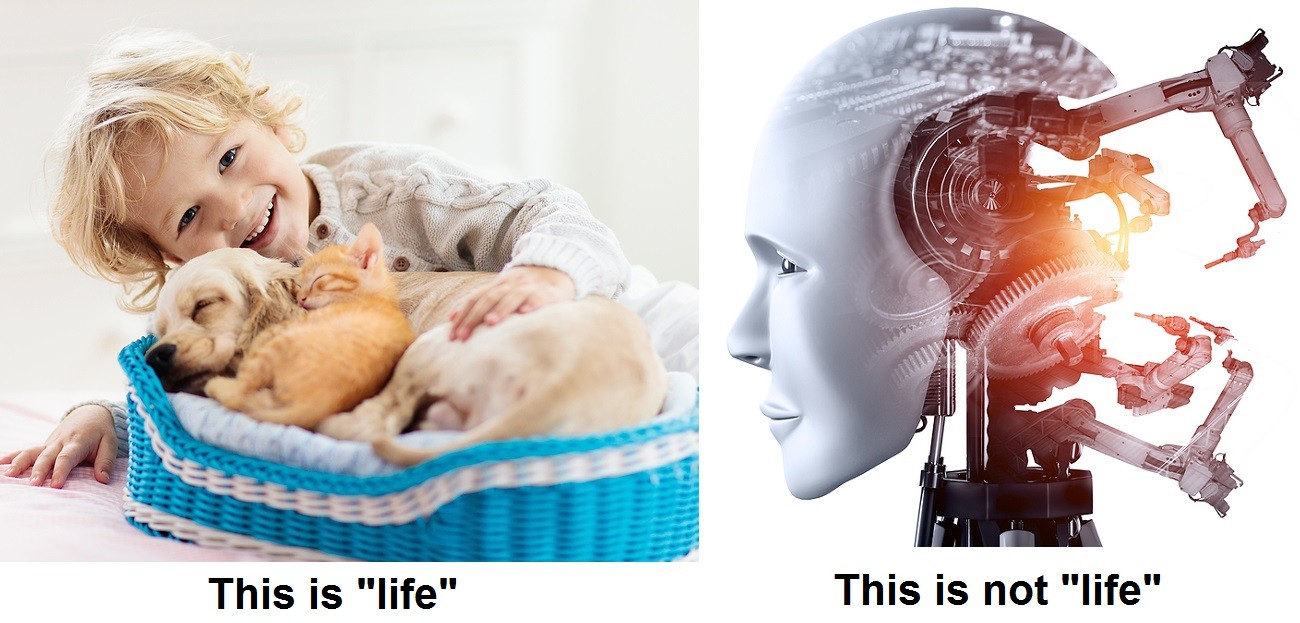 What we are observing today with the technocrats and their false prophecies such as "transhumans" is mostly a result of over 200 years of Western Culture basing academic thought on Darwinian evolutionary biology, which completely denies the existence of God and the human soul and spirit.
We have all been brainwashed by the propaganda our whole lives that life on earth is evolving into higher forms, because of our false belief in the technology.
The ancient Scriptures teach us just the opposite. They teach us that the earth is wearing out and passing away.
In the beginning, O Lord, you laid the foundations of the earth, and the heavens are the work of your hands. They will perish, but you remain; they will all wear out like a garment. You will roll them up like a robe; like a garment they will be changed. But you remain the same, and your years will never end. (Hebrews 1:10-12)

For this world in its present form is passing away. (1 Corinthians 7:31)
One of the tragic consequences of believing in evolutionary biology and that man has just evolved over billions of years as a product of random chance, is that it devalues human life, and robs it of its true meaning.
Here is what King David wrote in Psalm 139:
For you created my inmost being; you knit me together in my mother's womb.

I praise you because I am fearfully and wonderfully made; your works are wonderful, I know that full well.

My frame was not hidden from you when I was made in the secret place. When I was woven together in the depths of the earth, your eyes saw my unformed body.

All the days ordained for me were written in your book before one of them came to be. How precious to me are your thoughts, O God! How vast is the sum of them! (Psalms 139:13-17)
This is the truth that destroys evolutionary biology, and technocracy. And it is far more important than you probably realize.
Deprogramming our minds from the evolutionary biology mindset and renewing our minds to understand the truths of God's creation, and his plan for your life and the purpose for which you were born, is crucial to be prepared for what is going to happen in the future.
If you believe the false foundation and the false prophecies of the technocrats, which includes the negative belief called "fear," then you are going to be fearing the wrong thing as life gets more difficult and the Globalists try to implement their plans for total control of the human population in their version of a "New World Order."