Watch Live: Riots Erupt From Coast To Coast; Curfews Imposed; Stores Looted; D.C. Activates National Guard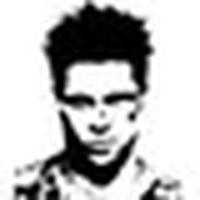 across the country:  
Summary:
Peaceful protests quickly turn violent across major US cities
US cities announce curfews after protests turn violent
Protests unfold across from White House
Seven states now activating National Guard troops
Protests in major US cities 
* * *
Update (22:10ET): The military police has arrived at the White House…
… as crowds of protesters gather.
… and as rioters charge the Police after a reported explosion:
… and the DC National Guard has been activated:
…as Military Police from the National Guard are now lined up in front of the White House
The president does not appear too nervous, tweeting moments ago that he has activated the National Guard in Minneapolis "to do the job that the Democrat Mayor couldn't do. Should have been used 2 days ago & there would not have been damage & Police Headquarters would not have been taken over & ruined."
Meanwhile, NYC is going from bad to worse to downright "Joker."
And, just like in Chicago, the island is starting to barricade itself: the Manhattan Bridge is now shut down:
* * *
Update (22:00 ET): Curfews are being imposed across the nation in response to the riots:
Minneapolis
Atlanta
Denver
Philadelphia
Pittsburgh
Seattle
Cleveland
Columbus
Portland
Miami
Milwaukee
Rochester, NY
LA too:
L.A. EXTENDS CURFEW TO ENTIRE CITY FROM 8 P.M. TO 5:30 A.M.
And here's why:
PROTESTERS BREACH BARRICADE ON RODEO DRIVE BEVERLY HILLS, ATTEMPTING TO BREAK INTO THE GUCCI STORE – CBSLA
THE NORDSTROM STORE IN THE GROVE SHOPPING MALL IN LA BEING LOOTED – CBSLA
NOW LOOTING THE APPLE STORE IN THE GROVE SHOPPING MALL
RIOTERS SET BEVERLY HILLS PD VEHICLE ON FIRE – CBSLA
* * *
Update (21:53 ET): A police officer in Jacksonville has been stabbed during a protest. According to WTSP, Jacksonville Sheriff Mike Williams said a protester stabbed one of his deputies in the neck and "many people have been arrested" in protests downtown Saturday. Authorities are warning the public to stay away from the downtown area as a protest continues against police brutality.
Earlier, police officers – seemingly terrified to fight back – were attacked and dragged through the streets of Chicago.
And in Salt Lake City, a man yelling  "all lives matter" was overpowered after pointing hunting bow at protesters.
* * *
Update (21:40 ET): New York is rapidly falling to the rioting mob, with scenes taken straight out of the joker, as cop cars get barricaded by protesters, and while some make their way out…
… others aren't so lucky.
Meanwhile the confrontations between police and protesters are getting all too real:
The scenes are simply surreal:
Over in the city of brotherly mugging, things are deteriorating fast too with a cop car on fire, as the Apple store gets looted:
A Nike story in Chicago just got rid of some excess inventory:
* * *
Update (20:19 ET): Absolutely stunning video emerges from Seattle this evening of a protester commandeering an AR-15 from a police car. Judging by the clip, the weapon had a loaded magazine and holographic sights.
Then, an unidentified man with an AR-15 comes up to the rifle-wielding protester and quickly snatches it out of his hand.
Chaos is unfolding across the country – this is history – unprecedented – and will continue for the coming days.
* * *
Update (19:52 ET): National Guard convoy spotted rolling into Washington, D.C. as social unrest continues to worsen.
* * *
Update (18:18 ET): It's Saturday evening, and social unrest unfolds across America as the country quickly descends into chaos. Many of today's protests started peacefully but have suddenly turned violent.
Let's start in Philadelphia, where multiple cars are on fire.
Protesters torch a Starbucks at Dilworth Park outside City Hall.
Meanwhile, in Dallas, a mob has attacked a line of cop cars.
Heavily armed Dallas Police shoot tear gas into the crowd.
A massive crowd assembles in downtown Miami.
Protesters shut down a highway in Miami.
VOA's Steve Herman tweeted, "demonstration turns violent" in Chicago.
Protesters and police clash in Chicago.
In the Fairfax district of Los Angeles, a huge crowd gathers in the streets.
Police car lit on fire in downtown Los Angeles.
Protesters turn violent at the White House.
Protesters swarm highway in San Diego.
Massive crowds forming in NYC.
Chaos in Times Square.
Police fire tear gas at protesters in Seattle.
Massive crowd develops in Cleveland, Ohio.
One shocked Twitter user said: "Protestors have arrived in BeverlyHills. I'd never thought I'd see a protest in Beverly Hills. Wow. I hope this stays this peaceful."
New reports indicate Colorado National Guard activates after buildings in Denver were damaged with explosives and rioters armed with rifles.
None of this is surprising considering the country has just experienced an economic collapse with 40 million people unemployed. Social unrest will likely get worse before it gets better. Riots could continue into next week. It's only a matter of time before National Guard troops are called up around the country.
Watch Riots Across America Live 
* * *
Update (13:35ET): Daily Mail reports the Pentagon has told active-duty military police to be ready to deploy to Minneapolis, a move that would hopefully squash the continued social unrest. The last time the military was sent into a US metro area to disperse large crowds was during the 1992 Los Angeles riots.
"As unrest spread across dozens of American cities on Friday, the Pentagon took the rare step of ordering the Army to put several active-duty US military police units on the ready to deploy to Minneapolis, where the police killing of George Floyd sparked the widespread protests.

"Soldiers from Fort Bragg in North Carolina and Fort Drum in New York have been ordered to be ready to deploy within four hours if called, according to three people with direct knowledge of the orders.

"Soldiers in Fort Carson, in Colorado, and Fort Riley in Kansas have been told to be ready within 24 hours.

"The people did not want their names used because they were not authorized to discuss the preparations." – Daily Mail
Fox News reported that protests could be seen in more than 50 cities on Saturday evening.
* * *
Update (12:50ET):  Several videos surfaced online of protesters (on Friday night) in Oakland stealing cars from dealerships.
In one instance, protesters torched exotic sports cars at a Mercedes dealership.
* * *
Update (11:19 ET): Prepare for a night of hell, as per Fox News' report that 50 cities could see protests on Saturday night.
* * *
Minnesota Governor Tim Walz summed-up the current chaos erupting nationwide perfectly:
"This is absolutely no longer about George Floyd or addressing inequities anymore. This is an organized attack designed to destabilize civil society."
Protests raged overnight in dozens of U.S. cities, including Minneapolis, Washington, D.C., New York City, Atlanta, Houston, and several large metro areas on the West Coast.
Protests or social unrest was seen in these major metros on Friday night:
Houston & Fort Worth, TX
NYC
Chicago, IL
Atlanta, GA
Washington D.C.
Detroit, MI
Fort Wayne, IN
Kansas City, MO
Des Moines, IA
Vegas, NV
Charlotte, NC
San Jose, CA
Boston, MA
Memphis, TN
Columbus, OH
Denver, CO
Cincinnati, OH
Portland, ME
Louisville, KY
Starting in Minneapolis, where unrest continued into the fourth night following the death of George Floyd, a man who was killed by Minneapolis Police on Monday, had Minnesota National Guard Adjutant General Jon Jensen and Governor Tim Walz announce the request for 1,000 more soldiers from the National Guard as widespread rioting and looting continued.
"This is the largest civilian deployment in Minnesota history that we have out there today, and quite candidly right now, we do not have the numbers," Walz said Saturday morning." We cannot arrest people when we are trying to hold ground because of the sheer size, the dynamics, and wanton violence."
Jensen expects by Saturday evening, up to 1,700 soldiers will be "ready to go." On Friday night, assault rifle-wielding soldiers were spotted on the streets within the ranks of local police.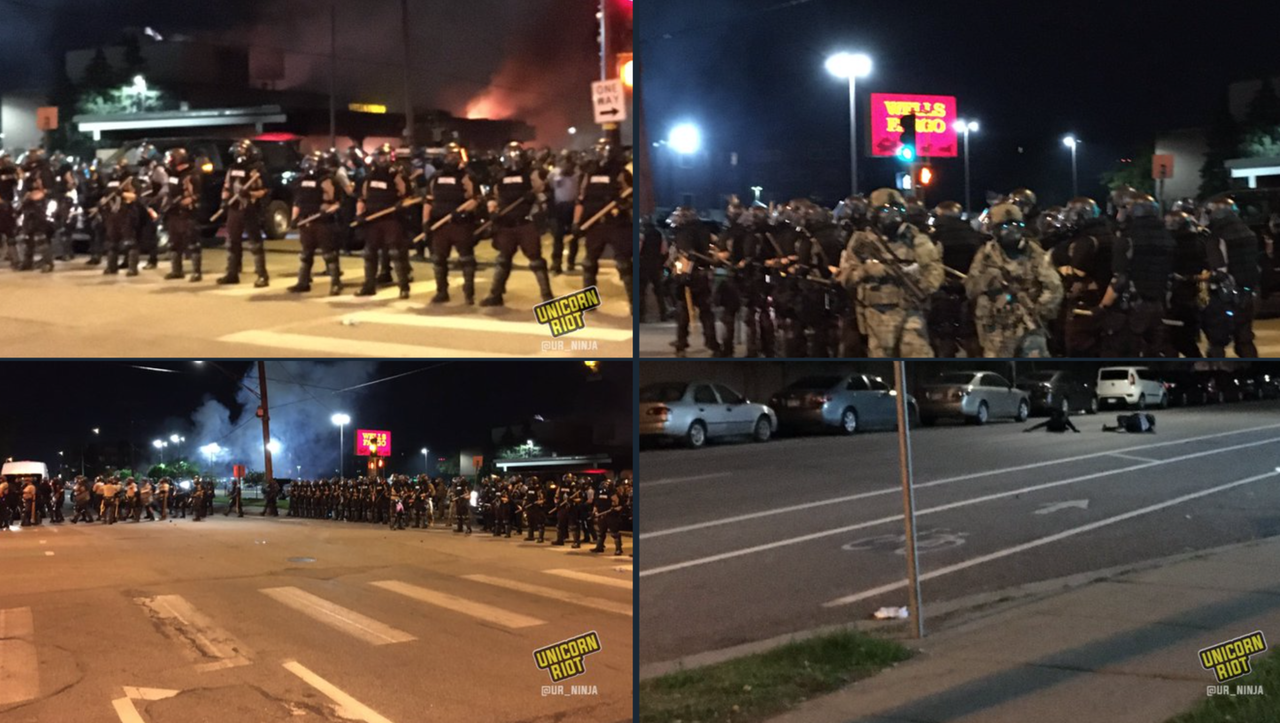 A fleet of armored Humvees lined the street "on Chicago Ave in between Lake St. and 31st as firefighters battle raging fires 8 blocks from where George Floyd was killed," tweeted Unicorn Riot.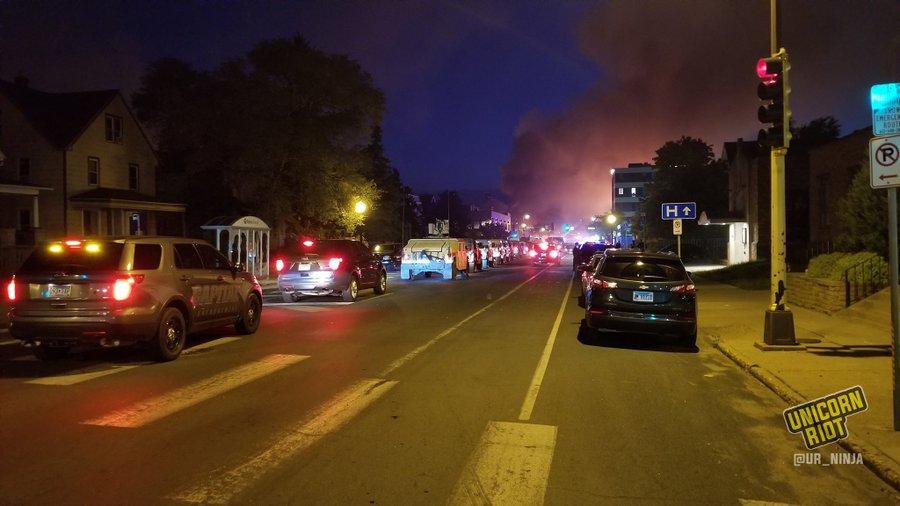 Protesters appeared to have torched a Wells Fargo bank.
Building structure(s) are still on fire on Saturday morning.
Chaos and destruction continue into the weekend.
Scenes last night from Interstate 35W, a major highway system in the U.S. that passes through downtown Minneapolis, where protesters broke into a moving UPS truck and stole packages.
In response to Washington, D.C. protests on Friday evening, President Trump thanked the Secret Service on Saturday morning for protecting the White house.
"Many Secret Service agents just waiting for action," President Trump tweeted.
Meanwhile, the Treasury Department in DC was breached by rioters, who spray-painted the building. According to CNN, some of the protesters were stopped by US Secret Service but eventually let go.
Down in Atlanta, CNN's headquarters were attacked by protesters on Friday evening.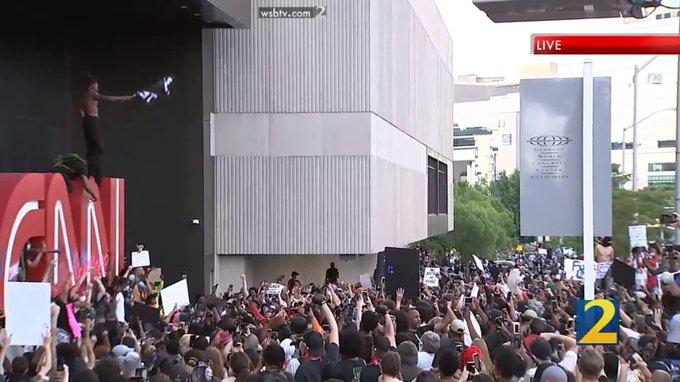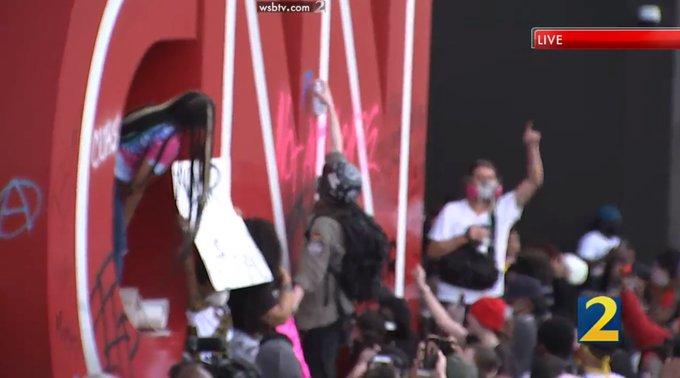 Several stunning images of the unrest in Atlanta last night.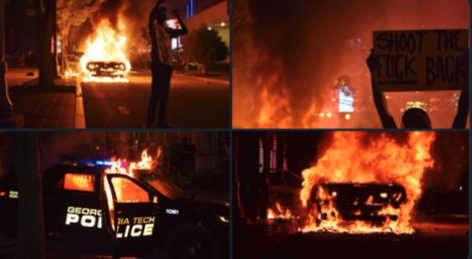 An angry mob lit NYPD Police vans on fire last night: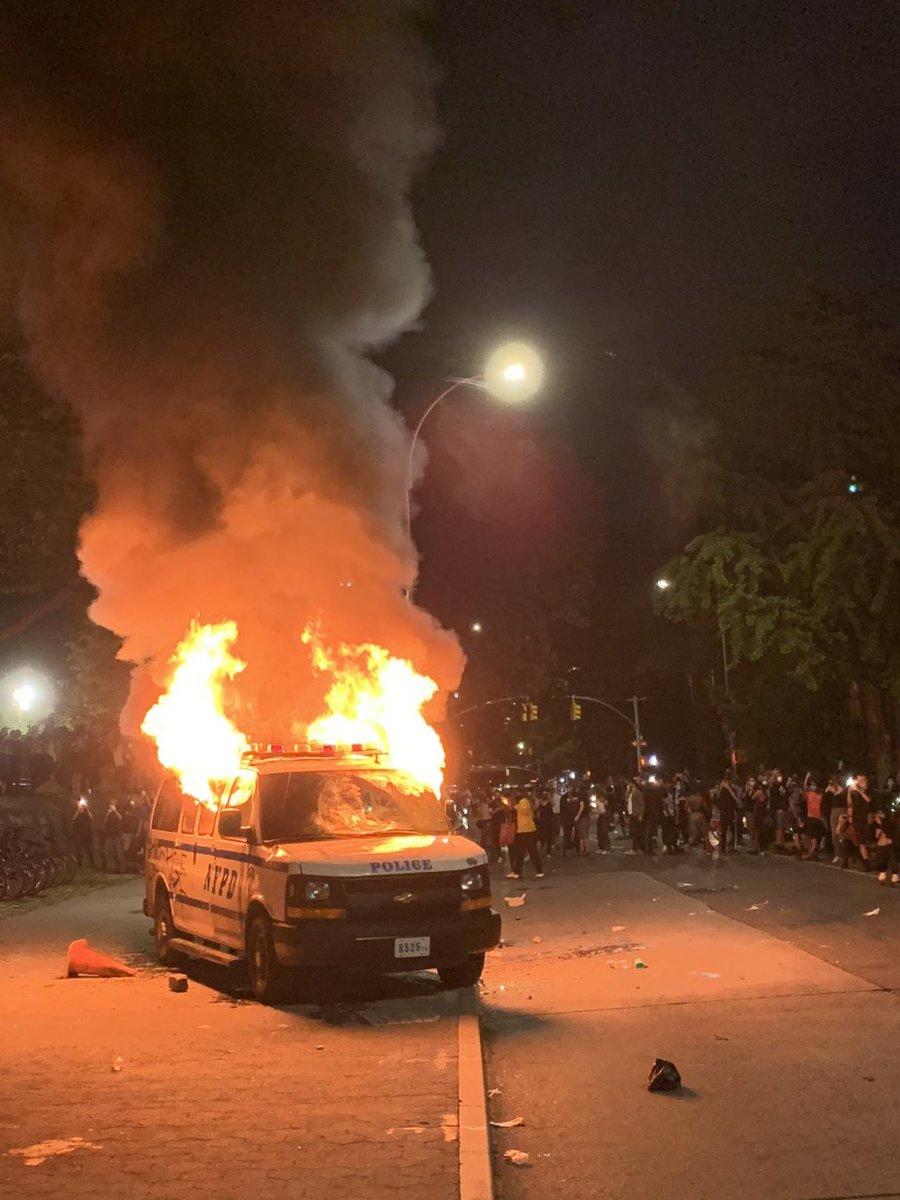 Rioting in Brooklyn overnight.
From Houston to Phoenix to Portland, police forces have reported widespread social unrest.
As things spiral out of control, two Federal Protective Service officers suffered gunshot wounds in Oakland, California, last night, leaving one of them dead.
Oakland was crazy in the overnight, one protester stole a skid loader tractor and drove it down the street.
Protesters clashed with police in Oakland.
Protesters looting a car dealership in Oakland.
Several years ago, US Northern Command "rehearsed non-lethal riot control tactics" at Davis-Monthan AFB in Arizona. Perhaps preparation for widespread social unrest across the country. The government has known this day was coming…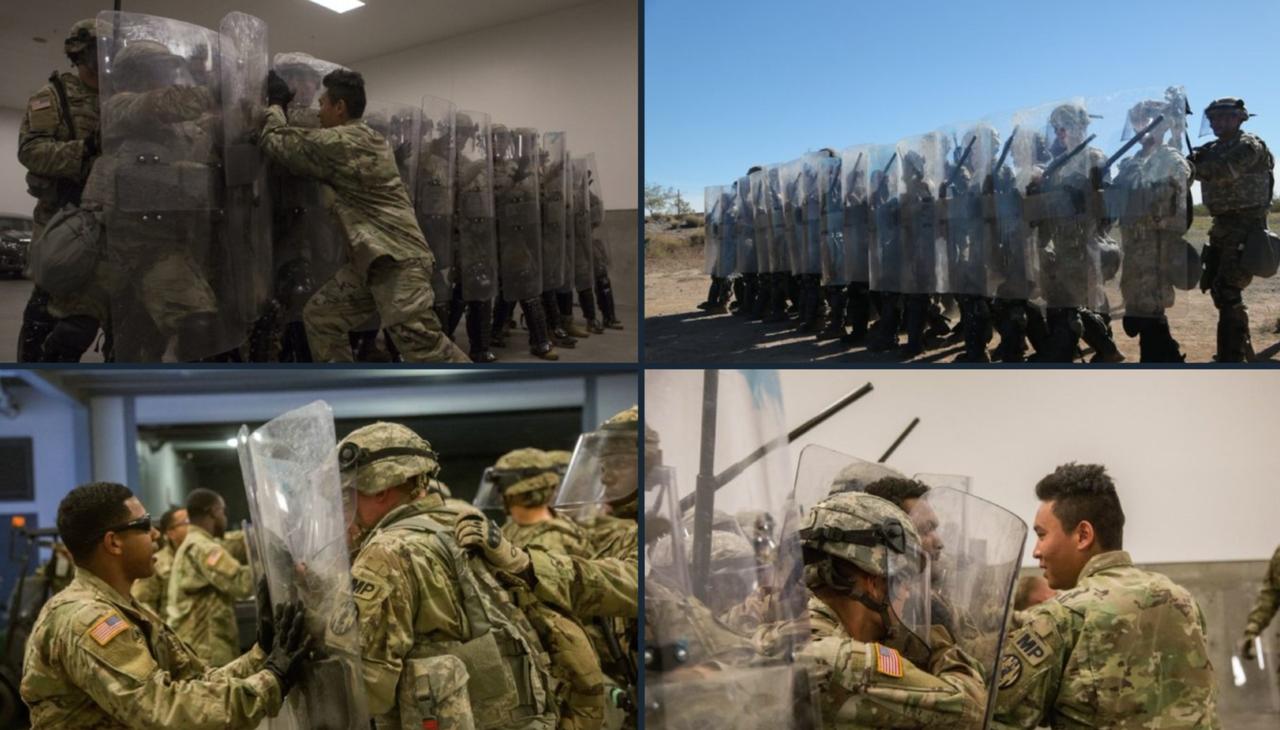 President Trump signed an executive order in late March that allows the Pentagon to mobilize up to a million troops to combat the coronavirus outbreak in the country. The order could now be directed at social unrest. It's only a matter of time before more state governors activate National Guard troops like Minnesota did early this week.
We were the first to note Friday, the federal government flew a military drone above Minneapolis to spy on protesters.
A perfect storm develops: 40 million unemployed, economy crashed, record polarization and wealth inequality at extremes, the country is quickly descending into chaos into the summer months. So what happens when the government stops unleashing helicopter money for people who recently lost their jobs?